Leg and Ankle Skin Care Lotion
Item Number: 619



Skin Care for Your Legs

A soothing lotion to nurture your legs and ankles, Leg and Ankle contains premium ingredients such as Aloe, Witch Hazel, Arnica Flower, Sweet Almond Oil plus L-Arginine and Natural Tocopherol, formulated to keep the delicate skin on legs and ankles healthily moisturized, supple and silky smooth.

Suggested Use: Squirt into your hand and gently rub onto legs and ankles.

Ingredients: Water, L-Arginine, Glyceryl Stearate, PEG-100 Stearate, Aloe Barbadensis Leaf Juice, Hamamelis Virginiana (Witch Hazel) Distillate, Isopropyl Myristate, Arnica Cordifolia (Arnica) Extract, Chamomilla Recutita (Matricaria) Flower Extract, Prunus Dulcis (Almond) Oil, Glycerin, Stearic Acid, d-alpha Tocopherol, Allantoin, Cetyl Alcohol, Sodium Hydroxide, Diazolidnyl Urea, Methylparaben, Propylparaben.
Glucosamine/Chondroitin/MSM Cream
Item Number: 336

Get the benefits of Glucosamine/Chondroitin/MSM

in a cream.
Suggested Use:
Apply Glucosamine Chondroitin MSM Crème on desired areas one or two times a day. Do not wipe off excess, but allow to penetrate for maximum benefits. FOR EXTERNAL USE ONLY.
Skin Nutrition Creme
Item Number: 600

The name says it all -- nutrition for your skin. Skin Nutrition Creme contains Biotin, D-Alpha Tocopheryl Acetate, Retinyl Palmitate, Beta Carotene, Soya Sterols, Panthenol, Pyridoxine, Allantoin and Riboflavin.


Anti-Oxidant Skin Creme
Item Number: 605



Anti-Oxidant Skin Creme contains ingredients that help fight the damage of free radicals. Anti-Oxidant Skin Creme contains natural D-Alpha Tocopheryl Acetate, Beta Carotene, Ginkgo Biloba extract and Tea Tree oil.
Peaches N Cream Hand & Body Lotion
Item Number: 614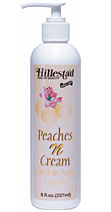 This rich lotion is loaded with natural almond oil as an emollient. More skin nutrients come from Aloe Vera Concentrate and the unique hot-saline processed Ginseng Extract. A special Collagen Complex helps keep the moisture in the skin. Finally, natural Vitamin E and A from Shark Liver Oil have been added to make the formula perfect.
Vitamin E Oil
Item Number: 2080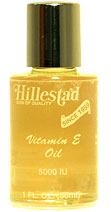 Each bottle contains 5000 IU of natural vitamin E. Great to use around the eyes.