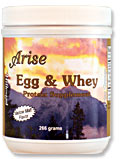 Arise Egg & Whey Protein Powder
Item Number: A117



Our new product was researched and formulated to fill a need for customers wanting to improve their protein intake easily. Arise Egg & Whey Protein Powder contains 10 grams of protein in each 13.3 gram serving. Its protein source comes from Egg Albumin and Whey, which gives it a superior Amino Acid profile. With its mild natural vanilla/malt flavor, it can easily be mixed into many liquids, like juices, shakes and smoothies or soft foods such as pudding, mashed potatoes and apple sauce. Arise Egg & Whey Protein Powder is available in affordable 266 gram jugs.
Supplement Facts
Serving Size
1 Heaping Scoop
Servings per container
20 Servings
Suggested Use:
Take 1-3 servings a day as a dietary supplement. Blend with fluid or add to food as desired. Blending works best in a protein shaker or a kitchen blender.
Balanced Meal Replacement

Hillestad has formulated a delicious Balanced Meal Replacement.
Peak
Item Number: 310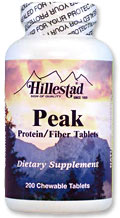 Hillestad's® Peak tablets are a crunchy, good tasting way to add essential protein and fiber to your diet. Each tablet provides 215 mg of high quality protein concentrate from whey and includes many of the essential amino acids, calcium and 130 mg of fiber.
Supplement Facts
Serving Size
6 Tablets
Servings per container
33 Servings
Suggested Use:
Take six tablets 1 to 2 times per day as a dietary supplement.

Torula Yeast Powder
Item Number: 4402



Another choice in nutritional yeast, Torula Yeast Powder is a delicious way to supplement your daily diet with B-Complex vitamins and protein. Its savory flavor makes it a perfect choice to mix into soups, cereals, gravies and breads. Or, lightly sweetened, it can be baked in your favorite dessert recipes, or stirred into fruit juices, shakes and puddings.
Nutrition Facts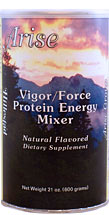 Arise Vigor/Force Protein Energy Mixer
Item Number: A115



Designed to deliver energy over a period of time, Arise Vigor/Force Protein Energy Mixer is a staggered 7-source carbohydrate blend, providing a spectrum of small to complex carbohydrate compounds. Arise Vigor/Force's protein blend includes free-form amino acids to provide easily accessible building blocks for muscle* and it's B-Complex vitamins are crucial in cellular energy production.* In addition we've added Taurine and Kola Nut which may help support endurance.* Arise Vigor /Force, with it's mild brown sugar flavor, mixed into your favorite hot or cold beverage, may just give you the boost you have been looking for!
Supplement Facts
Serving Size
30 Grams
Servings per container
20 Servings
Suggested Use
Mix two heaping tablespoons of powder in 8 fl. oz. of water or other liquid.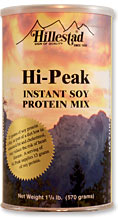 Hi-Peak Instant Soy Protein Mix
Item Number: 1830



Formulated in a soy base, Hi-Peak was specifically created to meet the demand for a high-protein supplement by vegetarians and those who need to avoid dairy products. With its natural mild vanilla flavor, it would be a tasty addition mixed into your favorite juice, sprinkled on, or mixed into, your favorite snack.

Each 20 gram serving of Hi-Peak contains 13 grams Protein, 206 mg Potassium, 14 mg Calcium and 118 mg Phosphorus.

Nutrition Facts
Serving Size
20 Grams
Servings per container
28 Servings
Directions:
Add two (2) tablespoons or one (1) scoop (20 grams) to water or your favorite juice. Mix well in shaker or blender.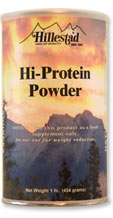 Hi-Protein Powder
Item Number: 355



Hillestad's® Hi-Protein Powder supplies one of the highest levels of protein per serving of any of the Hillestad® protein powders. Formulated with special whey protein concentrates, which have one of the highest protein efficiency ratios. Our powder contains a balance of essential and nonessential amino acids.
Nutrition Facts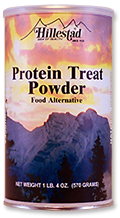 Protein Treat
Item Number: 1840



This delicious high-protein mix is balanced with vitamins, minerals, fats, carbohydrates and fiber. Protein Treat is delicious when mixed with water, milk or juice. Used by Hillestad consumers for more than 40 years as a light breakfast. Use Hillestad's protein shaker.
Nutrition Facts