Amino 1000
Item Number: 531

Amino 1000 contains 18 naturally occurring free-form amino acids, providing the body with the building blocks of muscle protein and other protein and features a balanced blend of two different protein sources.*
Supplement Facts
Serving Size
2 Tablets
Servings per container
75 Servings
Suggested Use
Take two tablets 1 - 3 times per day, with meals, as a dietary supplement.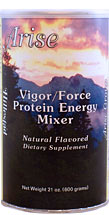 Arise Vigor/Force Protein Energy Mixer
Item Number: A115



Designed to deliver energy over a period of time, Arise Vigor/Force Protein Energy Mixer is a staggered 7-source carbohydrate blend, providing a spectrum of small to complex carbohydrate compounds.* Arise Vigor/Force's protein blend includes free-form amino acids to provide easily accessible building blocks for muscle* and it's B-Complex vitamins are crucial in cellular energy production.* In addition we've added Taurine and Kola Nut which may help support endurance.* Arise Vigor/Force, with it's mild brown sugar flavor, mixed into your favorite hot or cold beverage, may just give you the boost you have been looking for!
Supplement Facts
Serving Size
30 Grams
Servings per container
20 Servings
Suggested Use
Mix two heaping tablespoons of powder in 8 fl. oz. of water or other liquid.