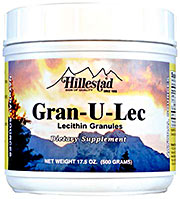 Gran-U-Lec
Dietary Supplement



A single tablespoon of Gran-U-Lec will provide 7600 mg of Lecithin. With its all natural rich and creamy flavor, one 1 ½ ounce scoop, (1 tablespoon), can easily be added to your favorite foods. Try it mixed in cereals, stirred into soups, baked in cookies and breads, or blended with any of the Hillestad Protein Drinks. The possibilities are endless.


Supplement Facts
Serving Size
1 Tablespoon
Servings per container
65 Servings
Suggested Use
Take 1 tablespoon per day as a dietary supplement. Add to cereals, soups or salads. Can also be mixed with fruit juices, protein drinks and vegetable juices.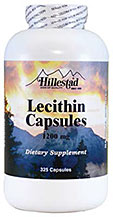 Lecithin Capsules
Dietary Supplement


Each of our Soybean based capsules contains 1200 mg of Lecithin.

Supplement Facts
Serving Size
1 Capsule
Servings per container
325 Servings
Suggested Use
Take one capsule 1 – 2 times per day with a meal, as a dietary supplement.